Before applying to the University of Portsmouth's distance-learning MA in Translation Studies, I remember trying to find reviews and comments from previous students to understand more about what the course was really like and being unable to find much. Having now completed the course, I decided to write this review in the hopes that it will be useful to other prospective students.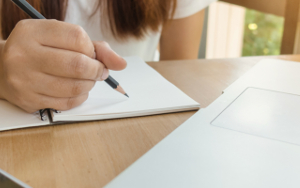 Flexibility
One of the key advantages of this course is the fact that it is distance learning (although there is a campus-based version too), and as such, it is incredibly flexible. This particularly appealed to me since I was able to move back home with my parents and work part-time alongside the course.
The MA Translation Studies course at the University of Portsmouth has been running since 1997, and through distance learning since 2007. Both degrees share the same programme, so it has the benefit of being well-established.
Most of the modules involve weekly contributions to the forums, sometimes as part of a group. However, although they highly recommend doing these, they are not essential or formally assessed. They also do not have to be done at a certain time or day during the week. This means that if one week you are especially busy and miss contributing, you do not have to worry that this will negatively affect your grades, and you can always catch up the next week.
Like most university courses, it also has a relatively short term time. This means that you can use the long breaks productively, for example, by doing an internship.
There are also three possible exit qualifications, based on one, two or three years of study:
MA in Translation Studies (one core unit, two optional and the dissertation): 180 credits
Postgraduate Diploma in Translation Studies: 120 credits
Postgraduate Certificate in Translation Studies: 60 credits.
Course content and evaluations
The course is delivered through the university's Virtual Learning Environment (VLE), Moodle. I found this easy to use and never encountered any problems with it. Having said that, some people had access issues at the start of the year when they weren't assigned to the correct modules.
When I did the course, there were two compulsory modules plus the dissertation. You then chose two optional modules on top of those. The two compulsory modules were 'Theory and Practice of Translation' and 'Specialised Translation', and you take these both in the first year.
I found the theory module informative, if a little dry, but I imagine this would be the case in other courses too. 'Specialised Translation' was a much more practical module and mostly involved group work. We focused on a different specialism in each teaching block, so there were four specialisms in total. In the French module, these were technical, crime fiction, legal and financial.
During the weekly group work, we worked both into and out of English. This was good for improving or keeping up source language skills. However, it seemed a little irrelevant, since we are always told that, professionally, we should only translate into our native languages.
My only other criticism of the 'Specialised Translation' module would be that you weren't able to choose which specialisms you studied. Having said that, it's good to get an overview of the specialisms that are out there. This is especially true if don't yet know which you might like to focus on in your future career.
In the second year of the course, I chose to do 'Second Specialised Translation' and 'Translation Technologies'. 'Second Specialised Translation' was the same as 'Specialised Translation' but in a second language, in my case this was Spanish. The specialisms we studied in the Spanish module were journalistic and cultural, instruction manuals, and technical, medical and legal.
'Translation Technologies' involved two teaching blocks, one which focused on machine translation, glossaries and concordancers, and one which focused on subtitling. This was a very practical module and was probably my favourite.
The final year of the course was dedicated entirely to the dissertation, enabling you to really focus on it. There were two types of dissertation that you could choose from, a translation and commentary or an empirical/critical essay. To begin with, there were group discussions about ideas and plans and some information about research methods. Following that, it was all individual work, plus ten hours of tutorial support. Supervisors were allocated based on the language pairs and/or topic of the dissertation. The dissertation proposal of 1000 words made up 10% of the final mark for the module, the dissertation itself made up the remaining 90% of the mark.
I had to submit the majority of assessments across all modules via Turnitin, and tutors returned detailed feedback within about a month. The dissertation was the only module in which I had to submit printed copies and feedback took longer.
Other modules that were available to me were 'Independent Learning', 'Professional Aspects of Translation', 'Technical Writing for Translators', 'Translation Project'. In hindsight, the 'Professional Aspects of Translation' module would have been a good option to take since we were given little information on the business side of being a translator in the other modules. Having said that, there were 'Engaging with the Profession' seminars and other resources which were available online. As well as that, the university hosts an annual translation conference which is a great opportunity to get to know more about the profession and to network.
Languages
A further benefit of the course is the wide range of languages that you can study within it, these are currently Arabic, Chinese, French, German, Italian, Japanese, Polish, Russian or Spanish. You are also able to choose two language pairs. The course is open to students working both into and out of English. This means that there are students from all over the world on the course, creating a vibrant virtual community.
The university provides support for students whose first language is not English with classes in English for Academic Purposes (EAP). These classes and associated class materials are free to all international/EU students.
Tutors
I could not fault the tutors on this course; they are all so knowledgeable and passionate about the subject. They were also friendly, approachable and supportive. In terms of communication, they were all very easy to get in contact with and quick to respond to any emails. In the dissertation module, there is also the opportunity to arrange Skype tutorials.
Library
I found the library service at Portsmouth to be fantastic! The faculty has a dedicated librarian who was always very helpful. She often sent emails and appeared on the forums to give tips, advice and solutions to problems, even when the question wasn't aimed at her.
The online library services are great and easy to use; I was always able to find what I needed. The library also has additional services and advice especially for distance learners, so you don't miss out by not being on campus. For example, if a journal article or book is not available online but it is available in the library, you can request a copy of the article or a chapter of the book to be scanned and emailed to you. If you live in the UK and Ireland, you can also request books which are available in the library to be posted to you.
Another service that you can make use of if you live in the UK is SCONUL Access. This is a scheme whereby you can borrow or use books and journals from other university libraries which are located nearer to you. The University's Academic Skills Unit (ASK) also provides support specifically for distance learners.
The referencing style used by the department is APA 6th edition. I used a different style in my undergraduate degree, but I found APA easy to get used to, especially thanks to the online resources and guides provided by the library. The faculty librarian also helped with any specific referencing queries.
Career prospects
When I began looking for an MA to study, being part of the European Master's in Translation Network (EMT) was my main criteria. EMT is a network run by the Directorate-General for Translation at the European Commission which awards a quality label to MA university programmes in translation which meet agreed professional standards and market demands. In the United Kingdom, there are currently 13 courses which are part of the EMT. You can find out more about this here.
Both the campus and distance-learning courses at the University of Portsmouth became members of the EMT network in May 2011. The University is also a member of a number of other professional networks, such as the Institute of Translators and Interpreters (ITI).
There is a dedicated area for advertising jobs, internships and volunteering on the Moodle site which is updated regularly. Also, when staff are contacted with opportunities, they forward the emails to all students.
The careers service at the University of Portsmouth, Purple Door, is a great resource which you can access for five years after graduation. There is an online jobs board, as well as advice and resources. They also run events and workshops which you can attend if you are able to travel there.
Conclusion
Overall, I found the course to be very useful, especially for improving  and gaining confidence in my translation and research skills. I would recommend the course to others, especially if flexibility is important to you. The large combination of languages is also a plus for people with rarer language pairs.
The course is primarily aimed at language graduates, or graduates from another discipline who have advanced language skills. However, it is also ideal for already practising translators who would like a postgraduate qualification for professional recognition.
Deadlines to apply are the 31st July if you are applying to start in September, or the 1st December if you are applying to start in January.
Some information may have changed since I finished the course in 2017, or since I have written this, so you can find up-to-date details about the course here: http://www.port.ac.uk/courses/modern-languages-and-area-studies/ma-translation-studies/