Some people may argue that business cards are old fashioned or even redundant these days, but I believe that they remain relevant. Business cards are inexpensive and convenient to distribute, making them a great marketing technique for freelance translators. This is especially true when networking at conferences and events. However, in order for a business card to be effective, it has to provide the right information. So, let's take a look at what you should (and shouldn't) put on a business card for freelance translators.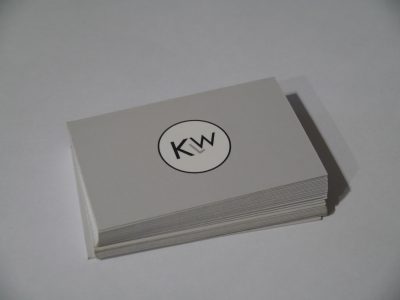 The essentials
Full name
Professional headline/tagline
Language pairs
Email address
Website address (if you have one)
The above are absolute essentials for a business card for freelance translators. You'd be surprised how many people forget to state their language pairs!
The optionals
It may be that your phone number is also an essential, but this really depends on how you do business. Many freelance translators do the majority of their business by email. If you don't feel comfortable giving out your phone number to everyone, don't! If you think that a particular person that you give your business card to also needs your phone number, you can give it to them separately. Having said that, some people say that the more contact information you provide on your business card, the more credible and professional you appear.
I don't think that it's necessary to put your full address on your business card as a freelance translator. This is because we generally work remotely and our customers do not visit us at home. While your full address is not necessary, you may wish to include some details. For example, your town or region, especially if you are targeting local clients. At the very least, you could add your country or time zone. Obviously, if you rent an office space and do receive customers there, then by all means include your full address on your card.
This is another topic that you may hear conflicting advice about, but personally, I think photos on business cards are a great idea. This is especially true if you are planning to give out your cards at conferences and events where your fellow colleagues may receive tens, if not hundreds, of cards each day. By including a photo, people can put a face to the name and will remember you much more easily. Having said that, ensure that the photo is a professional-looking and recent one that you can easily be recognised in.
If you have one, this should definitely go on your business card. Having a logo helps unite all your marketing materials, such as your business card, website and social media profiles. It's also best to stick to a set colour scheme, for example, you can see from my website that my chosen colour scheme is mainly grey and blue, with some black and white. I also used this colour scheme for my business cards to create continuity.
Qualifications and memberships
Do not overcrowd your business card by trying to fit everything I've mentioned on; decide what is important for you. If you have a qualification or membership that you think is particularly important and you have the space, put it on there too. Including memberships can be a good way to demonstrate credibility. However, don't forget that depending on who you're targeting, it may not mean anything to them.
If your areas of specialisation are firmly set and do not vary, then include them on your business card. However, if you are just starting out and you are unsure what your specialisations will be or whether they may change, it's best to leave them off. You can provide information about your specialisms on your website or social media profiles and modify it if you need to. You don't want to waste your money on a pile of 200 redundant business cards.
Social media usernames/profiles
Many translators are active Twitter users. If this is the case with you, you may wish to include your Twitter username in order to connect with new-found colleagues online. The same goes for Facebook (if you have a specific business page), Skype, Instagram and LinkedIn. You could also include the link to your Proz.com profile. This could be especially useful if you don't have a website as it provides somewhere for the person receiving your business card to find out more about you.
Other tips
Firstly, keep it simple! Only include information that is really necessary and don't overcrowd your card; people just won't read it otherwise. You don't have to fit your life story onto your business card. If someone wants to know more, they have your contact information. It's also important that the fonts and colours that you choose are easily legible. As well as that, it's best to stick to the standard business card size, or it may end up getting lost if it can't be filed along with others.
Secondly, you may wish to have two (or various) versions of your business card. For example, you could translate your business card into your source languages. This is particularly useful if you are targeting direct clients from your source language countries. Similarly, it may be a good idea for you to have a 'social' version of your business card to use when networking with colleagues and a 'client' version of your card to hand out to direct clients and agencies. For example, your 'social' card may include your photo and Twitter username, while your 'client' card may include your phone number, address and specialisations.
Additionally, it's worth paying to make your cards double sided since this provides you with more space. Even if you only put your logo on the back, it looks more professional. Equally, you could have your information in your target language on one side of the card and in your source language on the other side.
Finally, be aware of cultural norms if you are handing out cards in a country other than your own. There can be differences in the way cards should be designed, in the information that they should contain, or even in the way that you hand them over.
Designing your cards
There are various companies that can print your business cards for you, but two of the most well-known and widely-used companies are MOO and Vistaprint. Both of these companies provide a huge range of options for your cards and allow you to design your business cards using an online tool. However, if you want more control over the design of your cards, you can upload an image file and they will print it for you. In this way, you can use any program you like to design your perfect business card. Have a look at the 'Design and Social Media' section of this blog post to discover some free tools that you can use to design business cards and other marketing materials.
Let me know in the comments if you use any of my tips or have any of your own!