Watching TV series and films is a great, informal way of learning a language or keeping up a language that you already know. Watching series and films is obviously a great way to improve your listening skills and expand your vocabulary, but it also has some less obvious benefits. For example, it also exposes you to the culture(s) of that language and a variety of different accents. As well as that, it lets you experience authentic conversation. That includes everyday expressions, varied language, real-life speed of speech and slang or colloquial language. Most importantly, it's an enjoyable and motivating way to learn!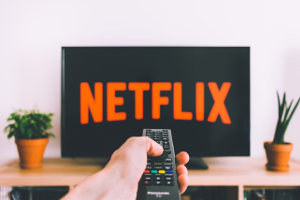 How to Change the Language
If you are trying to view a series or film which is also available in your native language, it may automatically start playing in this language. To change this, click the dialogue button in the playbar which appears at the bottom of the screen (see below). This will bring up the available options and you can select Spanish. You can also change your default language and subtitle preferences in your account settings. By doing that, you won't have to change the settings every time that you watch something.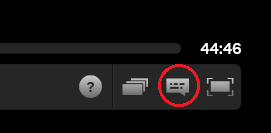 It may seem daunting at first to watch something in a foreign language, one way of making it easier is to turn the subtitles on. The dialogue button shown above also houses the subtitle settings.
Don't be ashamed to put the subtitles on, even if you're already an advanced speaker of the language. Studies have shown that using subtitles helps when learning a language. However, make sure you set the subtitles to Spanish. It has been shown that using subtitles in your native language actually has a negative effect on language acquisition. This is because they take your attention away from the foreign language.
If there's a word that you don't understand, try to infer the meaning from the context and jot the word down so that you can check its meaning later. In this way, you don't have to keep interrupting your viewing.
The following series and films are available on UK Netflix:
Set in glamorous 1950s Madrid, it tells the story of a fashion house and the escapades of its owners, employees and customers. It can be a little cheesy and predictable at times, but with plenty of drama, love, humour and friendships, what more could you want? It's a real feel-good program and I love it! There are 4 seasons with 55 episodes in total, so there's plenty of material for you to get your teeth into.
IMDb rating: 8.3/10
This spin-off of Velvet follows some of the original team, as well as some new characters, as they set up a new store in Barcelona in the 1960s. It's not quite the same as the original, but it certainly filled the Velvet-shaped hole in my life! There's currently only one season, but a second is in the pipeline.
IMDb rating: 7.7/10
Fans of Velvet may also like this series since it has the same producers and many of the same actors. Gran Hotel is a period drama set at the start of the 20th Century and based in a grand, family-owned hotel. It is reminiscent of Downton Abbey with some comedy, crime and murder thrown in for good measure! Like Velvet, there's plenty to keep you going with 39 episodes across 3 seasons.
IMDb rating: 8.5/10
This film is based on the bestselling novel by Laura Esquival and is set against the backdrop of the Mexican Revolution. The film tells the tale of a decades-long romance between Tita, the youngest daughter of a traditional Mexican family, and her first love, Pedro. The pair are forbidden to marry since, according to the family tradition, Tita must not marry. Instead, Tita has to stay in the family home and care for her mother until her death. The injustice increases when Pedro marries Tita's older sister. Tita expresses her feelings through her cooking. The film explores traditions and changing roles of women in Mexico in a melodramatic yet emotional way.
IMDb rating: 7.2/10
Partly in English and partly in Spanish, this is a good one to watch if you're not feeling up to a whole film or episode in Spanish. This series gives an insight into the criminal underworld of Colombia from the 1970s right through to the 1990s. Based on true life, the story centres around drug lord Pablo Escobar, the US DEA agents sent to capture him, and eventually, his successors. There are currently three seasons, with a fourth set to be released this year. Expect plenty of blood and gore!
IMDb rating: 8.9/10
Another one for Narcos fans! This dramatic series recounts the life of Joaquín "El Chapo" Guzmán, the notorious Mexican drug lord who allegedly ran the Sinaloa Cartel. The story spans from his lowly beginnings in the 1980s to his most recent imprisonment in 2016. There are currently two seasons with 21 episodes.
IMDb rating: 7.9/10
This gritty noir detective series set in 1990s Cuba is based on the Havana Quartet novels by Leonard Padura. The story follows detective Mario Conde as he investigates crimes, deals with corruption and politics, and looks for love in the decaying city. It's worth watching for the rich visuals of the beautiful Havana alone. I visited Cuba a few years ago and watching this series instantly transported me back there. The series is made up of four feature-length episodes.
IMDb rating: 8.0/10
Another series by the producers of Velvet and Gran Hotel, this period drama is set in 1920s Madrid. The program focuses on the lives of four women from different backgrounds who all work as operators at the National Telephone Company. Over the course of 24 episodes, it tackles themes including women's rights, sexuality and domestic abuse.
IMDb rating: 7.8/10
An incredibly clever mystery thriller in which a successful young businessman has three hours to prove that he is not guilty of the murder of his lover. With so many nail-biting plot twists, I was on the edge of my seat for the full 1 hour 45 minutes.
IMDb rating: 8.1/10
Following her father's death, a young Spanish woman travels to her family's plantation in Africa in search of answers. Along the way, she discovers some surprising family secrets. The film is partly based in the beautiful Aragón and features some Aragonese, one of Spain's many minority languages.
IMDb rating: 7.4/10
If you run out of original Spanish content, don't forget that many other shows and films are also available with the soundtrack dubbed in Spanish. For example, the majority of Netflix originals are available in a number of languages, including Spanish. Watching series and films dubbed in Spanish can be good for low-level learners. This is because you can watch something that you have already seen in your native language, which makes it easier to follow and understand. You can find a list of series and films available with Spanish audio here.